Description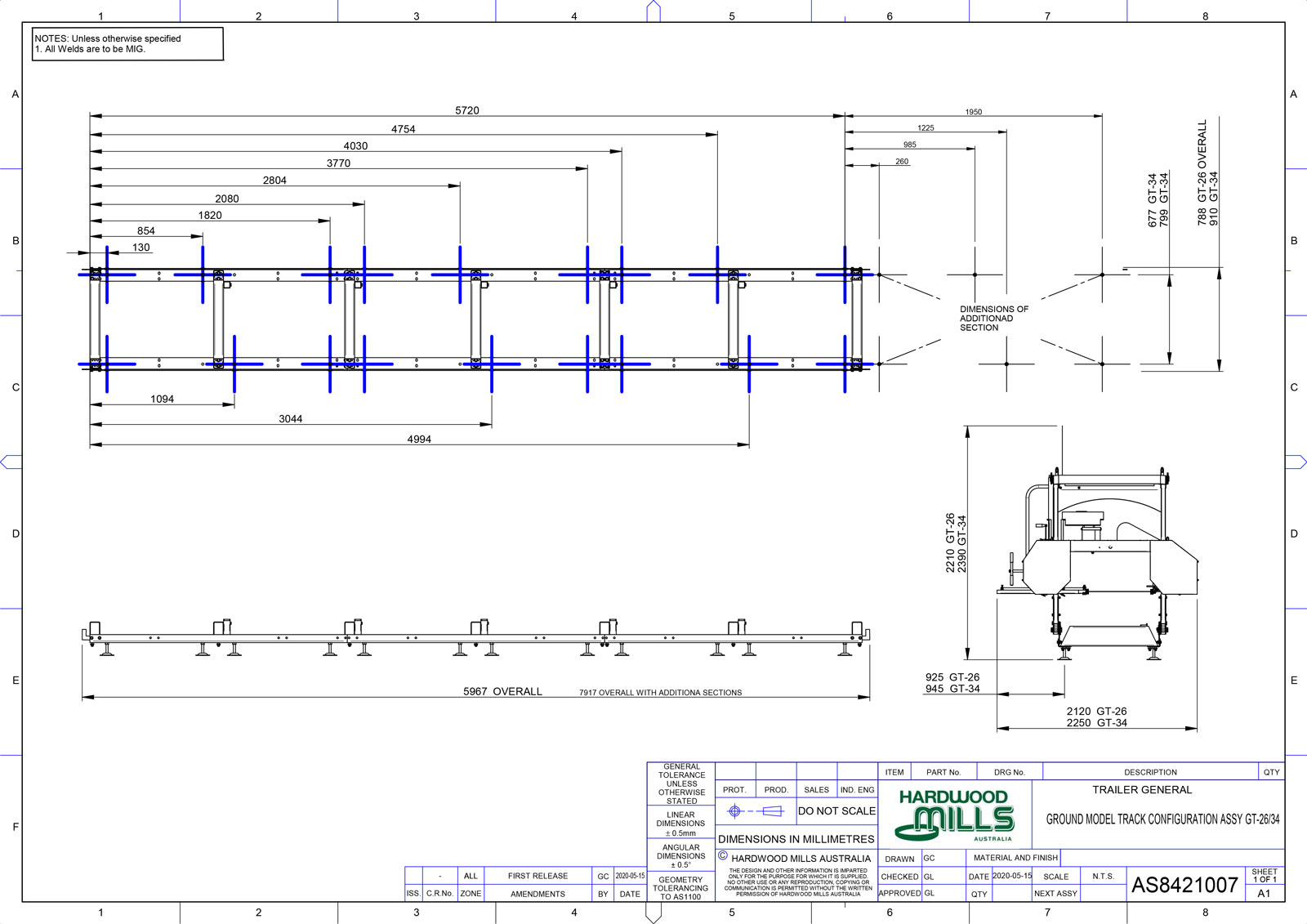 GT26 Deluxe Portable Sawmill Ground Model Features
Power  14HP Kohler Pro Command Petrol Engine- Electric Start
Log Diameter Capacity 28″ (711.2mm)
Log Length Capacity  5.1 metres
Additional Track Extensions  6'5″ (1.95m) (Multiple extensions can be added on)
Distance Between Blade Guides  24″ (609.6mm)
Maximum Cut Depth 18″ (457.2mm)
Maximum Cut Width  24″ (610mm) Square Cant or 24″ (610mm) Live Edge
Last Cut Off Deck  1″ (2.5cm)
Track Rail Construction  2.5″ x 4″ (63mm x 100mm) Galvanised Steel Rails
Track Log Bunks (Rectangle Tube Steel)  3″ x 6″ (75mm x 150mm) Powder Coated
Stainless Steel Log Bunk Cover   Optional
Levelling Feet   Set of 18 Included
Log Clamps   Screw Two Set
Head Design   2″x4″ (50mm x100mm) RHS 4 Post
Band-wheel Diameter  19″ (48cm)
Blade Size  Lenox 1.25″ Width x 146″ Length x 1″ Pitch (32mm x3708.4mm x 25.4mm)
Blade Engagement System  Centrifugal Clutch 
Lubricant Tank   10 Litre Plastic
Finish  Powder Coat Paint / Galvanised Steel
Sawmill Warranty  2 Year Parts Warranty 
Engine Warranty 3 Year Warranty (Offered directly through Kohler)
Shipping Weight   (450 kg)
KOHLER CH440 (14HP) SINGLE CYLINDER PETROL ENGINE ELECTRIC START
This Kohler CH440 petrol engine features a 4-cycle, slant cylinder design, with a cast iron cylinder bore and overhead valve for easy access. The Quad-Clean™ 4-stage air filtration system ensures only clean air enters the engine for maximum power and life of the engine. In addition, this engine is backed by a 3 year commercial warranty
Typical Applications :- Typical applications for this  Kohler engine include :- Concrete Trowells, water pumps, Hydraulic power packs etc
ENGINE SPECIFICATIONS
Gross Horsepower of 14HP (429cc)
Oversized muffler with heat shield
Industry standard PTO face
Quad-Clean™ heavy-duty cyclonic air cleaner
Overhead valve design
Easy access throttle, choke and shutoff
Cast Iron Sleeve
Shaft Size – 1 Inch Keyway Shaft
Model Number – CH440
3 Year Commercial Warranty
Use your blade for approx. 2.5hrs and re sharpen. You will get up to 5-7 resharpens depending on what you are cutting. If you want to work for a full day take three blades with you and give them a re-sharpen that night and you are good for the next day.
Re-sharpening time for one blade is approx. 20mins.
*Extra blades can be purchased from us for $119 each.
New Gt26 Deluxe deep cut portable sawmill
Only the Gt26 Delux Portable Sawmill has massive cut throat, best company-backed warranties and 15Year Tradition of trust.
Portable Sawmill Squaring Off Log and other cuts
Learn how to square off log cuts with the GT26 deluxe portable sawmill band saw.
See our Portable Sawmill Tract Extensions
See our sawmill trailers